BY ON JUNE 6, 2013
Would Tim Duncan Retire With A San Antonio Spurs 2013 Finals Win?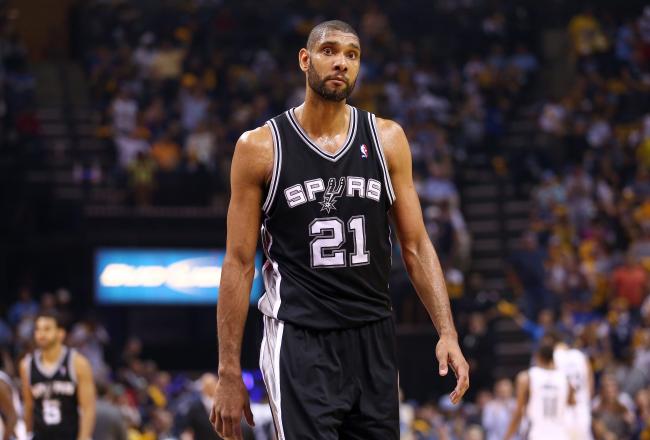 Ronald Martinez/Getty Images
With the
San Antonio Spurs
in a position to win their fourth title of the Big Three era and the fifth of The Big Fundamental's career, the greatest power forward of all time is fighting for more than another championship. He's playing for the right to go out on top.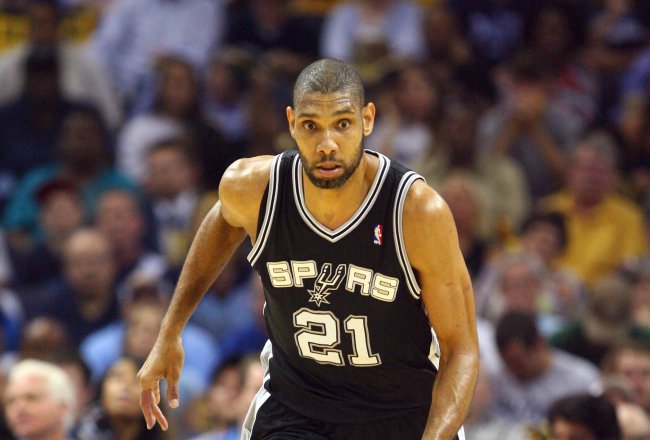 Duncan has done so much, and a fifth ring might be enough.
Spruce Derden-USA TODAY Sports
At 37, Duncan has shown few, if any, signs of slowing down. He finished the regular season averaging 17.8 points, 9.9 rebounds and 2.7 blocks per game, notching the sixth-highest PER in the league (24.4).
Only one other player in
NBA history
ever managed to average at least 17 points, nine rebounds and 2.5 blocks per game in the same season after his 35th birthday - Patrick Ewing.
Since the playoffs began, Duncan has continued to set an historical precedent. His 17.8 points, 9.2 rebounds and 1.7 blocks a night make him the
only player in league history
, aged 35 or older, to sustain such marks through 10 or more playoff games. It's not even the first time he's done it either. He accomplished the same feat during the 2012 postseason campaign.
Every which way we turn, Duncan has been making history, playing his way. Year in and year out he's remained brilliant. Quiet, but dazzling. That's who he is and how he's always been. And his continuously mounting accolades make us forget what was just mentioned—he's 37.
Duncan is still in peak condition—at 37. He's still a superstar—at 37. He's still contending for titles—at 37.
Despite finishing the regular season as the
14th-oldest player
in the league, Duncan has continued to like the All-Star that he is. That doesn't happen. It's not supposed to happen. But it has. It is.
Playing with the agility and tendering the potency of a 25-year-old, Duncan doesn't need to retire after the season. Or the next. Or even the one after that. Assuming he continues to keep himself in great shape, he could play another five years.
If he and the Spurs overthrow the
Miami Heat
, he won't.
Six years later, James has the opportunity to exact revenge on the only remaining dynasty in the league that solidified its existence at his expense. Finally closing in on a dynasty of his own, I just don't see him falling to the Spurs again.
All the while I've acknowledged
San Antonio's greatness
and readily admitted that I and anyone else who sides with Miami could be rendered a fool. And why? Because part of me understands that I chose the Heat for another reason, for a selfish one—I don't want to see Duncan walk away.
For 16 years, those who appreciate calculated excellence have admired Duncan. They've been left smitten by the way he carries himself, by the way he carries his team and, most importantly, by the way he plays.
No one has ever used the glass like Duncan. No one. And few have remained as consistent as him for such an extended period of time. Even fewer have the hardware (four championships) to show for it.
Everything Duncan has done seems perfect, especially now. To those that understand what the NBA has in Duncan, as a player and person, they don't want to see him go. Not now. Not when he's still at the top of his game. Not when he's enraptured us to the point where we're not ready.
If Duncan procures that fifth ring of his, it won't matter. He'll be ready. He'll be able to go out on top, a luxury most conceived to be impossible.
Something about the Spurs always invokes doubt. Usually it's age. Because their core is so old, they're not supposed to win titles. For the last five years they didn't.
With each passing year, the Spurs were supposed to get worse, Duncan was supposed to slow down. Save for a 2010-11 anomaly that saw Duncan average career lows in points (13.4) and rebounds (8.9), he hasn't. The Spurs haven't either.
Still, after last season's Western Conference Finals fallout against the
Oklahoma City Thunder
, that same doubt surfaced once again. As Duncan prepared to enter free agency, the Spurs were allegedly done. Washed up. They couldn't legitimately contend anymore.
Parker thought otherwise.
"I'll get you back to the NBA Finals," he told Duncan,
according to Marc J. Spears
of Yahoo! Sports. "We aren't done. You aren't done."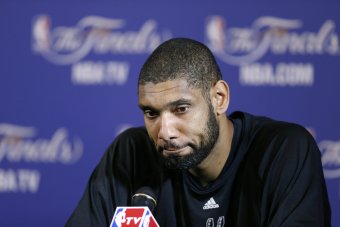 Is this it for Timmy?
Derick E. Hingle-USA TODAY Sport
One year later, Duncan is in the midst of a new contract and the Spurs are back in the finals. Parker kept his promise. Duncan isn't done.
Now, there's a new promise he'll attempt to make good on—allowing Duncan to be "done" on his own terms.
"I would love for Timmy to go out on top,"
Parker told Rachael Nichols
in a one-on-one interview. "Just like David Robinson went out on top in 2003, I would love to do the same thing for Timmy."
We get the sense that Duncan hasn't told Parker what he plans to do one way or the other, but we can't ignore how pointed Parker's concessions are.
A loss to the Heat would all but guarantee Duncan's return. Write that down. He could retire, but he won't. Not with two more years on his deal, plenty of basketball left in him and his appetite for winning titles not yet satisfied.
Another championship doesn't necessarily write him off either. At the level he's playing, visions of a sixth and seventh may sidle their way into his brain.
More likely, though, Duncan will see a fifth title as an opportunity to walk away from the game on his own terms, on top. Just like The Admiral did. And just like Parker wants him to.
"I'm excited to be here," Duncan told
Marc J. Spears
of Yahoo! Sports. "It's a really great feeling. I don't know how else to explain it. It's been a really long time. It's fun to know that I'm going back to the finals."
It's equally as harrowing to understand that a return to the finals culminating in the attainment of a fifth championship ring will (likely) pave an exit for a player the NBA isn't ready to see leave.